Best Hosting Service for WordPress
Are you looking for a best-hosting Service provider?
And don't know which hosting service provider you should go for, then this blog will help to make a good decision.
Hostinger offers the most affordable shared hosting and its price starts from 69$ per month.
It offers three web hosting plan,
In single shared hosting, you will get 1 website,30GB SSD storage,1 email account, Free SLL,100GB bandwidth, Managed WordPress, WordPress acceleration,2 databases, and GIT Acess.
The most exciting thing about this website is that you will have daily backups and 24/7/365 live chat support.
Hostinger is the best hosting service provider it's affordable and reliable for comfortably hosting any site.
When it comes to premium shared hosting, you will get 100 websites,100GB SSD storage. unlimited Bandwidth with managed WordPress and WordPress acceleration. They also give GIT and SSH access.
Talking about SSH, is a network protocol that allows one computer to securely connect to the next computer without encryption, data travel over the internet with plain text, and it would be easy to intercept username, password, data, and then use it. However, SSH is encrypted data that you securely log in to a remote machine, you can securely transmit files, safely issue a remote command, and much more.
And, Now it comes to Business Shared Hosting, it has the same features as above but the only difference is, you will have Free CDN and 100000 monthly visitors.
If you are just getting started, then I don't recommend you to go with business shared hosting.
Hostinger is one of the best hostings for WordPress. These services are affordable and fast hosting providers .you have the power to choose your server and it has less latency.
When you use hosting, you will find that they don't provide you with a traditional c panel, they will provide you with H panel and you will also find that they have an easy interface to use. At the end of the day, you're gonna experience hosting as affordable with good performance. you will have fun using a lot of templates as well.  
A2hosting is hosting one of the fastest hosting companies. Bryan Muthig is the CEO of A2 hosting and A2hosting offer shared hosting, WordPress hosting, VPS hosting, reseller hosting, dedicated hosting, domain, etc.
A2hosting Best Service provider. its cost starts from 2.99$ and went up to 99.59$ as shown in the above image. When you go through shared hosting, you will found a startup, drive, turbo boost, turbo plan. if you are a beginner, then you can go with shared hosting in the startup plan. In startup plan, you need to pay $2.99 monthly where you will be getting 1GB SSD storage,1 website, free and easy site migration, unlimited email accounts, unlimited transfer,24/7/365 live chat, email support, easy c panel, free website builder, and you have a choice of data center location.
But, if you are not a beginner and wanna go with turbo, then you will get a 20x faster page load with features associated with it as above.
When using shared hosting, I found the speed is decent. It is not good for handling more visitors to your site. When it comes to VPS, you will see good results and load balancing in VPS is good enough. you will get four data centers with a2hosting; Singapore, Michigan, Amsterdam, and Arizona.
Bluehost is also one of the best hosting service providers Like other websites, it has also shared hosting, dedicated hosting, and VPS hosting. when you visit the Bluehost website, you will find chat and call on the topmost of the navbar which is the most beautiful part of it. They have live chat and telephone lines. Customer support is extremely responsive. Its charge starts from 2.95$/month.
Talking about the features, it has an easy step-by-step setup, FREE domain name for the first year,24/7 lifetime support.
As you can see, there is a basic, plus, choice plus, pro plan. If you are starting for the first time and don't know about what you do and what you do not, then it is better to go with a basic plan in whatever hosting you choose. It is because it gives you an idea about how it works and provides you experience on taking further action based on your company's needs.
In the basic plan, you will get one website,50 GB SSD storage, Custom themes,24/7 customer support. you can take a basic plan when you need just one site.
If you are thinking of multiple sites from the blue host, then you can go for the plus plan. In the plus plan, you will get unlimited websites, unlimited SSD storage, custom themes, and 24/7 customer support.
Choice plan and Pro plan have the same features but the only difference is you will get added privacy and security features and power with optimized web resources respectively. Bluehost provides hosting services at an affordable price.
Siteground consists of three plans; startup plan, GoBig and GoGeek plan. The price starts at 6.99$/month.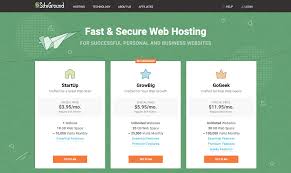 In a startup plan, you will get One 1website,10 GB webspace, free WP installation, free WP migrator, free SSL, daily backup, free CDN, free email, as you can see in the above image.
Siteground has an inbuilt cache manager, and the speed of Siteground is uncompromisable. Siteground is best service provider for woo commerce hosting. So, if you are thinking of woo commerce hosting, then Siteground is the best suited for you.
Hostgator is one of the most affordable hosting plans. It is one of the favorable hosting plans for blogging.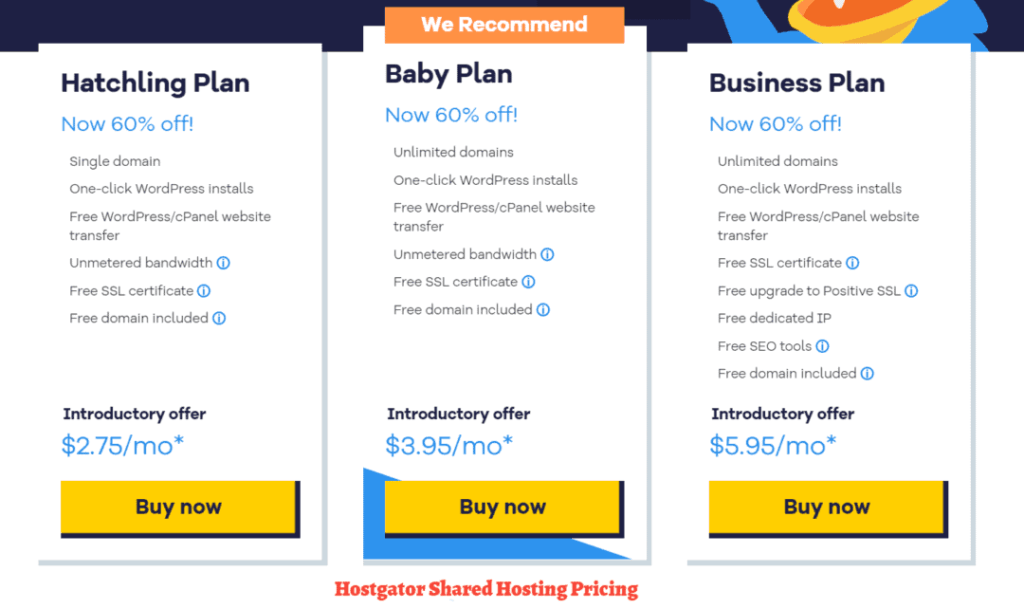 In shared hosting, you will get unlimited storage, unmetered bandwidth, and unbeatable hosting. You can choose among baby plans, hatching plans, and business plans.
Its price plan starts from 2.75$/month.
In the hatching plan, you will have a single website, one-click WordPress install, free WordPress, and c panel website transfer while in the baby plan, you will have unlimited websites.
If you are starting your blogging journey or any startup, Hostgator is the most affordable, suitable and best hosting service provider that you can go with.
You can also access live chat support and a telephone call at any moment.
So, if you are going to start with woo commerce or any eCommerce site, I would recommend Siteground, but if you are starting with any blogging or startup you can go with Hostinger, Hostgator, or Bluehost. These all are the Best hosting service provider.
And Don't forget to drop some messages in the comment box, if you have any queries or feedback on this article.